A self-managed construction or renovation project is a true test of a marriage. Thankfully, my husband is my best friend and in many ways our skill sets complement each other. We have definitely had our extremely frustrating moments but over all, we have done pretty well. As I write this we are moving from insulation to drywall at the Hobby Homestead Project. The house is starting to look real! We even have siding. This post is going to cover the craziness that was the design for the master bedroom….
The original owner had the master bedroom on the first floor as you can see in the image below. This was awkward for us since you would enter the bedroom right off the front entry way of the home. We tried several times to rearrange this so that the entry was closer to the stairs to go to the second floor. None of our options worked.
Once we realized the master bedroom didn't work on the first floor we had to move it upstairs. Luckily there is a large space over the garage and part of the first floor that we could try to convert into a master suite. What. A. Nightmare.
We had to rule out the "Large Dormer Option" because of excessive costs. We found out we had to cut trusses and put in a huge steel beam in the garage ceiling below. Add in several other structural additions and we were done. To work with what we had we could only add on the two small dormers at the back of the house. In the two spots we added them the roof was stick built. This meant we did not have to cut trusses! One dormer provided a spot for our drop in bathtub and the other is just a nice nook in the bedroom with a window looking out at the tree tops.
Here is a glimpse at the crazy late night sketch process my hubby and I went through on a dry erase board we use for homeschooling our girls. You can see what a nightmare finding a wall for the bed was. It is amazing how a space can be so big but so small at the same time!
Below is one of the design inspiration photos from Houzz. We like the windows in the dormer area of the bathroom. Natural light is a must and we struggled to provide as much of it as we possibly could!
I really liked this rustic door on the track and the double vanity in this photo. We wanted to make our own vanity but our "to do" list was ridiculous. There is only so much we can handle doing ourselves! At this moment we are still going to build the first floor bath vanity. I'll let you know how that turns out!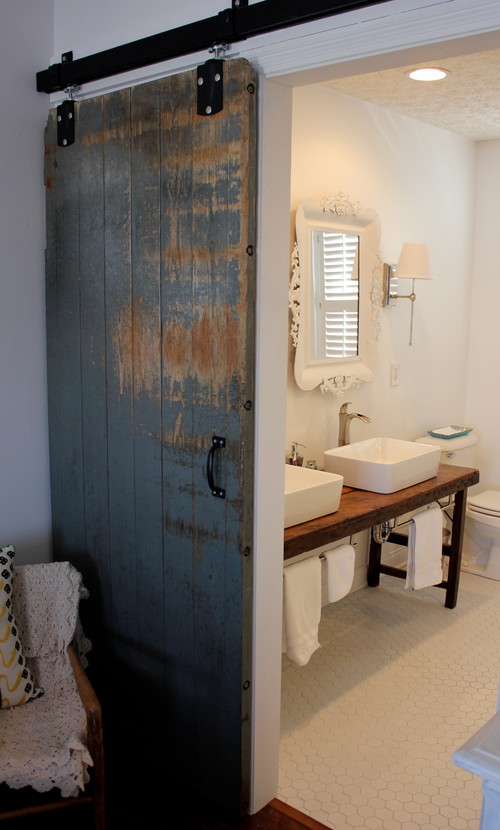 These photos made us feel better about our shower placement. We ended up with a shower in a corner of the house with a clipped ceiling. The ceiling starts to clip at 6 feet though so it really isn't intrusive at all. We have a really unique little vestibule area too that will provide a drop zone area. Robe hooks, towel bars and a small bench are really going to make it an interesting addition to the bathroom.
It was so challenging to design the master that we even considered this option!
Are you working on a renovation or new construction project? Tell me about it!